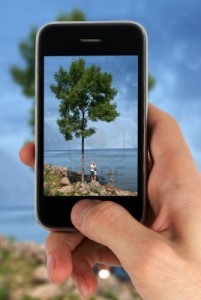 Gorge Vale Golf Course, Tillicum and Craigflower Road, Esquimalt
Mike Nelson Pedde explained the ins and outs of how to edit photos on your smart phone. Mike has 40 years experience in photography.
Notes after the presentation:
1) There are two places in the presentation where Mike jumped over to Firefox. Those links won't be active in the
.pdf  of the presentation
.
2) Mike can't overemphasize the importance of good digital asset management (D.A.M.) – this is a great place to start: 
The DAM Book  
and   
The DAM Forum
P.S. The Wacom Bamboo Stylus can be purchased at London Drugs, Stapes, etc. but the replacement tips are harder to find. I recommend
NCIX.com
It's $7.50 for three nibs, plus shipping, so I usually order 6 as the shipping cost is the same. Part number for the nibs is ACK20601 There's also a softer nib – ACK20501 but I don't like them. Maybe if you're drawing in 'charcoal' on your iPad.
The facts are that cell phone (and tablet) cameras are everywhere today, and that mostly they're used by people to make selfies to post on Facebook or to email to friends. While cell phone cameras suffer from obvious challenges over their SLR camera counterparts, Mike shows ways to easily overcome many of these challenges. Cell phones are much more than a niche market. The International iPhoneography Awards have been running for 7 years now and the Mobile Photography Awards are in their 4th year. People are using their phones (and tablets) for serious work. Mike has something like 17 apps on his phone that are directly or indirectly related to photography; to bastardize a phrase, this is not your grandmother's cell phone.