Today we are going to handle dynamite — Passwords and  duplicate file removers.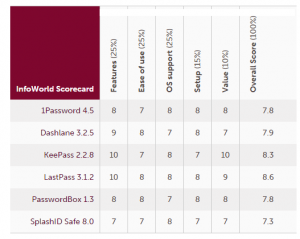 LastPass is a common password manager.
Why show LastPass instead of, for instance, DashLane?  Because LastPass is what I use.  I haven't much time to do comparative research on your behalf. In InfoWorld Scorecard, LastPass scored highest (see left graphic).
To use LastPass you need a memorable, strong master password.  Kaspersky has a website where you can try out different passwords for strength.  Then you can set up a LastPass account .