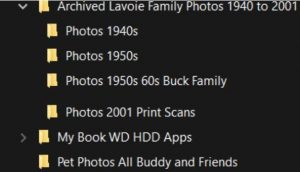 We looked at moving photos to folders and grouping them into blocks of photos for each year, and storing them on external hard drives.
Now, I was able to go back in time by scanning old printed photos and saving them to digital albums that I made up for each year that those pictures were taken. It was a lot of work to scan them one by one, but it was easy with a printer/scanner we have for home use. It just took time. I wanted to put everything into a digital library.
I also digitized colour slides and put them into groups according to the year they were taken. This was done by using an old slide projector and projecting the image on a blank white wall in the house, and taking a picture with a digital camera. This was very inexpensive to do, and the quality was pretty good.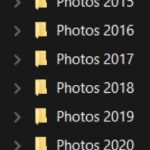 So, now I have a digital library of family pictures dating back to 1940. All these folders are duplicated on each of two external hard drives.
It was a simple matter to be able to copy all the old family pictures to DVDs so I could give a copy to each my daughters for their use.
I hope you can use these tips now that we have tons of stay-at-home time,
Thanks, Rick